Watch this short video… it's a great intro to the blog post.
A Very Real Matter: Same-Sex Attraction
Life was meant to be enJOYed, not just endured.  
What happens when someone in your family announces they have same-sex attraction?
Do you kick them out?
Do you love them unconditionally?  
This is a sensitive subject, one that brings much controversy no matter your background. 
The purpose of this video and post is to invite families, and society in general, to reinvest in kindness.  When we look around at the amount of judgment and hatred in the world, the honest response is that we all could do better. It is my belief that we, the human race, are to LOVE one another, SERVE one another and do our very best to HELP one another with the challenges and trials that come our way.  
It doesn't matter where you live or what your religious beliefs are; if you are rich, poor, brown, black, white, pink or green – we all have the same basic needs. We all want to feel we belong, are loved and valued.  God said, "Love one another as I have loved you."  He wasn't just talking to your neighbor.  He was talking to you and me and even those in our families that may make different choices than we would. Intolerance is why there is so much hate, war and bullying in this world. It needs to stop.  Things need to change.
Gandhi said it best; "Be the change you wish to see in the world."
It was January 9, 2012, when my 24-year-old son Sean, told his father Scott and I that he was gay, in the best way he knew how.  Precisely at 11:11 pm, he sent us a private message saying;
"Hey so I'm not gonna beat around the bush too much, I'm just going to tell you something that I'm sure you already know or it has at least crossed your mind plenty of times.  I'm gay. I'm sure this isn't the best news a parent could hear, but I feel like it's not right for me to Not talk to you about something very real to me. I want you to know I'm very much the same weird Sean. Ha! I love you and dad so much and you're the best parents a kid could ask for. This is why it's taken me so long to tell you, I'm fine with the pain it can bring me at times but, I just didn't want to hurt you 'cause you don't deserve it. Once again I love you very much, but I want to keep this brief 'cause I am sure you'd rather talk in person and I am 100 percent fine with that. I haven't told anyone ever, I wanted you and dad to be the first to know."
The sting of reading the words "I'm gay," was masked by the last sentence: "I haven't told anyone ever, I wanted you and dad to be the first to know" – to me that validated how awesome, amazing and considerate my son is!  It also shed light on the fact that my son had closeted his most conflicted and torn feelings with lock and key – alone. That, I was not proud of.
Sean was correct in his assumption that this had "at least crossed my mind".  I had often wondered about my strikingly, good-looking son that only dated when the girls took the initiative and asked him out.  It was a thought I kept very quiet, and secret, hardly daring to think it to myself.  It was something I "hoped" was not true!  But here it was in black and white – my son announcing that he was gay.  His father, on the other-hand, had no clue. Scott was honestly completely blind-sided by the news. It shook him to his core.  Not that he didn't love Sean.  He simply had not seen this coming and it wasn't something he'd even slightly acknowledged.
Immediately upon reading Sean's message, I called him asking to hurry home so we could talk, face-to-face.  This was Sean's final night before heading back to school in Hawaii. He was out visiting friends and saying his good-byes for another year. When he got home, he and I stayed up until 4am talking, crying and hugging before calling it a night and heading to the airport those few hours later. It was one of the most difficult things I'd ever done under the circumstances; giving him one last hug that would have to suffice for an entire year.
Going Through My Own Refiner's Fire
As I look back on that very first conversation, I have to admit that I am not proud of everything I said. I said some things completely out of ignorance. I had never researched the subject – naively thinking that was a subject "other families" had to deal with — NOT me and my family.
First, I told Sean I loved him – and that my love would NEVER change.  I felt very strongly that he needed to know of my unconditional love for him.  But then I gave him a pep talk, "What are you going to do about it?" "You are a fighter Sean – you can fight this."  "Hang in there, this is your test, your challenge, and in the next life your feelings will match your body and all will be well."  As these phrases spilled off my lips, I honestly thought I was giving words of comfort,  not knowing each phrase was a dagger in my son's heart.  The phrases weren't new. He had grown up hearing them everywhere – and he had spent a lifetime trying to digest and understand why he felt the way he felt and what kind of life that meant for him.
What literally broke my heart that evening was looking at my 24-year-old son, and thinking my adorable little boy with the big smile had grown up dealing with this secret all alone – NO one to trust and talk to about it.  I cried then, and I cry still now.  Tears also come at the thought of thousands of kids and teens with same-sex attraction dealing with it ALONE, afraid to talk about their true feelings and contemplating suicide as the answer.  Death is NOT the answer.
As I have listened to my son tell of what it was like growing up "fighting an inward battle" trying to "fit in" in a world that frowns upon gays; belonging to a religion that is family-centered and strongly believes marriage is between a man and a woman, and in a family that teaches the same.  My heart breaks at the thought of my own flesh and blood growing up feeling like a misfit right in our home, in school, in society, and within the walls of our church.  Growing up he never let on to the sadness and confusion going on inside. He was a happy, active, fun-loving little boy and teenager. We just didn't know. Even his friends didn't know.  If an Oscar could be awarded, Sean would have won. He hid his feelings well.
The dagger in my heart are the piercing words of Sean telling of the years he contemplated ending his life so no one would ever know he was gay. It is my prayer and quest that NO ONE feels that way – Ever!
I am so thankful Sean never acted upon those dark feelings and is happy with the person he is, trying to live the best life he can,  just like everyone else.
I have Googled, read, fasted and prayed to become more educated. One startling fact that I learned in my quest to gain knowledge and understanding is that teens and young adults with same-sex attraction have one of the highest rates of suicide attempts…..THAT is unacceptable!  No one should go to bed at night thinking they are better off dead.  Never. Ever.   We need to be the change we wish to see in the world – LOVE one another, SERVE one another and HELP one another.
I have learned through the years that everyone is fighting some kind of battle. The gift this has given me is not to judge, to be more compassionate, kind and tolerant – and to treat all others the way I would want to be treated.
No matter where you stand on this sensitive subject, I pray that we may all respond with much more sensitivity and thoughtfulness in our families and in society when encountering same-sex attraction.
P.S. To my readers who are wondering about Sean's father Scott's reaction.  Scott had deep-rooted feelings of Homophobia, so Sean had grown up hearing his father's unkind perception of gays, making the "coming out" all that more difficult. Once that table had been turned and Scott knew it, he blew me away with his quick quest to learn all he could about the elephant in the room. What I will tell you is that in his own due time, Scott will share his personal refiner's fire to accepting and loving his son.  And it will be powerful and heartfelt.
P.P.S.  In April of 2013, Sean graduated with honors from BYU-Hawaii with a degree in Social Work.  He recently completed an internship at an Orphanage in Thailand and has been accepted into the Masters Program at the University of Hawaii.  Sean is a happy, easy-going guy with a great sense of humor.  He's an Eagle Scout and has always been a leader amongst his peers.  For example, Sean paid for his college education all by himself, without student loans!  He graduated with honors, wisely debt-free, and teaching others how to do the same. Coming out has not changed Sean — it's Scott and I that have changed. And for that, I thank my Heavenly Father. He blessed us with the gift of learning about something we thought only others needed to worry about.  I love Sean today as much, if not more, than ever.
May God bless you in all of your experiences, discoveries and life lessons.
Yours,
Becky Mack:)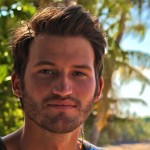 A follow-up to this blog post: "A Follow-up to a Very Real Matter: Same-Sex Attraction"
FYI:   Grab my eBook today for ONLY $2.97! "My Husband Wears The Short Shorts In THIS Family!" It's parenting with humor, courage and a whole lot of love.  Also in paperback!