HaPpY 2017!
It's been a year since my last blog. Perhaps you hadn't noticed, because your life is as busy as mine. For the record, I thought of you often and I have a lot to catch you up on. Here's the reader's digest version; My husband Scott and I became empty nesters and moved from our home of 17 years.  I went on a two-week humanitarian trip to Kenya with 100Humanitarians to lift, love and serve on the Mara and was forever changed. I contributed to two anthology books; A Place of Love and Success Through Failing.  I got a few more gray hairs AND my husband and I started a weekly podcast called Life in 22 Minutes where we invite special guests on our show who share stories that inspire, bring hope and put a smile on your face in 22 Minutes. AND the best part of 2016 – my grandchild count increased to 8.
What's next? Lots! I have big plans for 2017. You do too, right? One of my top goals is to eat healthier, drink more water, exercise and to get more sleep so that I will have more energy to play with my grandkids AND to slow down that dang-aging-thing that keeps trying to creep up on me now that I'm over 50.
Did you know that every year the top two new year's resolutions made are to "get fit" and to "lose weight" and by January 17, most Americans will have lapsed or slipped? But according to professor of psychology, John C. Norcross, a slip need not be a fail! Yes, you read that right. You have not failed!
In fact, Norcross's research shows that 71% of diligent goal setters say their first slip actually strengthened their efforts, renewing their inspiration to achieve their goals. So don't just give up till next year.
Here's three tips to  Rock Your Resolutions and successfully reach your health goals.
1) Be clear on your why behind your goal. If the real reason you want to eat healthier is because you want to have more energy to play with your kids, or grandkids in my case, then remind yourself of that often. When you're clear about what you're aiming for, you have a greater incentive to make the necessary changes to achieve your objective.
2) Be positive about small successes. There's a lot of self-blame around ditching a New Year's resolution. No one is perfect, give yourself permission to reprioritize and re-evaluate as needed. Celebrating small successes helps to keep you moving forward.
3) Create fond memories with your family.  Have you ever stopped to think that from the day your child is born, you have only 18 summers with them? Then they are gone! And let me tell you it goes fast! Remember your last summer how fast it came and went? That's exactly what I'm talking about.
To walk the talk and rock my resolutions, on January 17, the very day professor John C. Norcross said most people lapse, I sent my children and grandchildren a text asking them to meet their father and I for dinner – our treat!  I've been wanting to try out the much talked about acai bowl, smoothie and juice bar, about a 30-minute drive from our home, called Bowl of Heaven.
Scott and I were the first to arrive and was greeted by an adorable worker named Maddi. As I scanned the menu above Maddi's head, I warned her that my large family would be arriving soon and told her we were newbies to Bowl of Heaven and asked for suggestions.  She rattled off her top 4 favorite bowls along with their nutritional value and pointed out the extra toppings available.  I asked for samples, thinking that would help me decide which one to order, but the opposite occurred, it made it harder to pick just one, each was so good with their own unique combination of flavors.
Scott is very carbs conscious and asked Maddi so many questions that she pulled out a folder with pictures and facts for us to browse through. We read the benefits of acai and the MAQ 7 exotic juice – no wonder everyone is talking about it – even Oprah! Acai is a super fruit high in antioxidants and essential fats.  It looks and tastes like a treat, but is actually a full blown meal that is only 500 calories. WoOt! WoOt!
The family came, ate, laughed and created a fond memory with a two thumbs up for the Bowl of Heaven. If you live in California, Utah or Wisconsin I highly recommend trying an acai bowl, a little bit of heaven in a bowl.
pssst…. make sure you try the Ginger Shot!  It's lip-smacking delicious.  HaPpY Rockin' your Resolutions.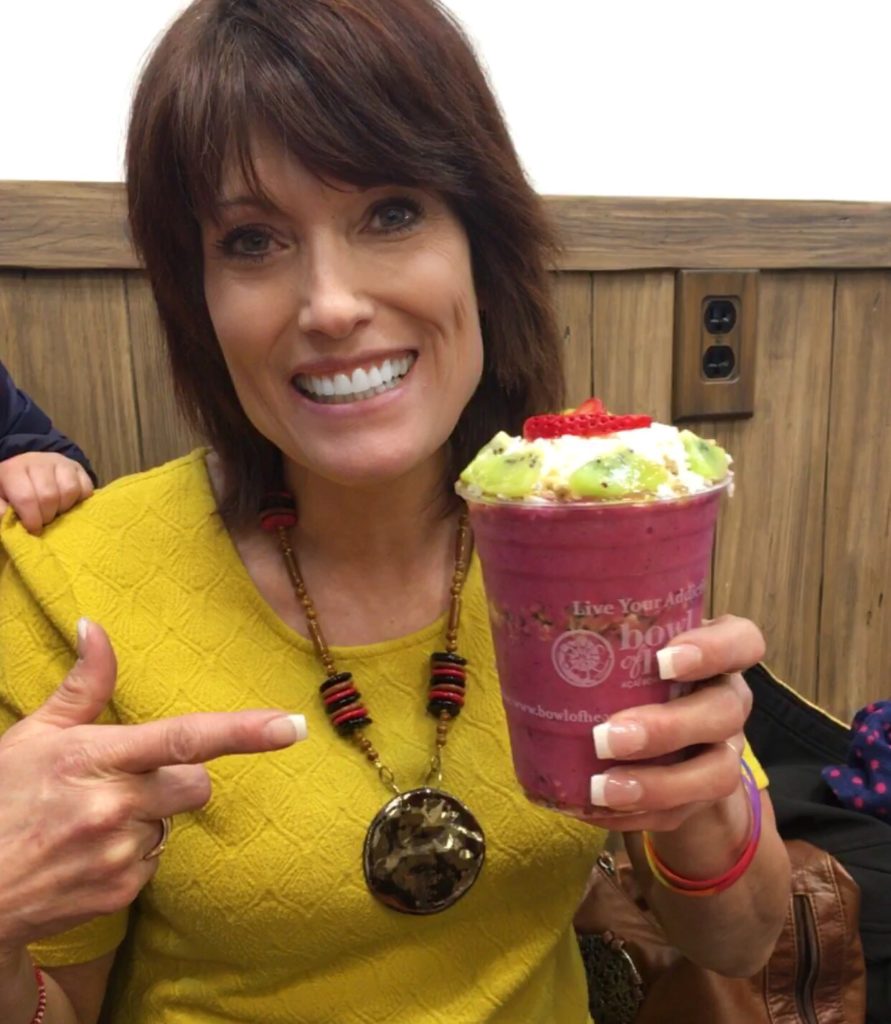 The Paradise!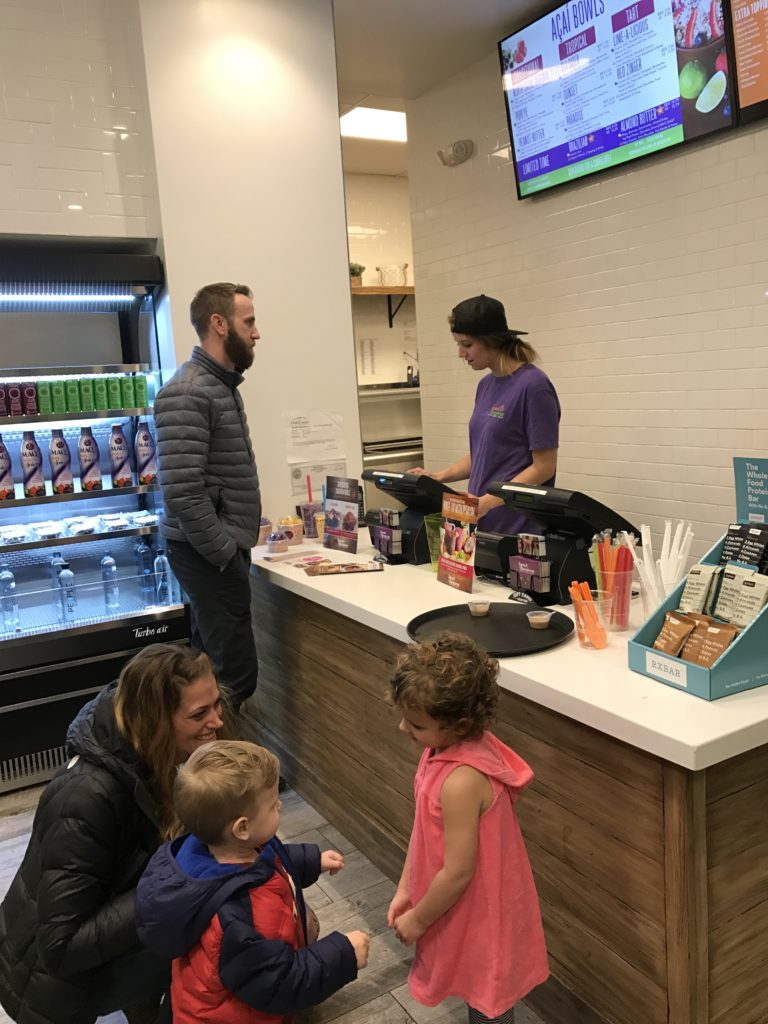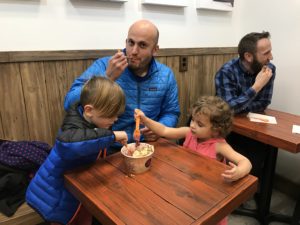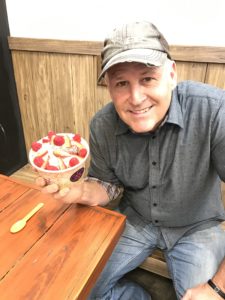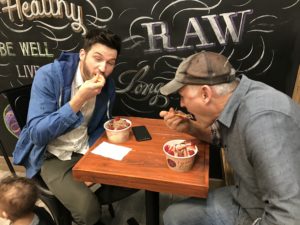 A little bit of heaven in a bowl.